Music Ministry
First Congregational Church has musical opportunities for all ages… read on to find the choir that fits your musical interests!
Adult Choir: grade 9 – adult
Handbell Ringers: grade 6 – adult
Youth Choir: grades 3-8
Instruments
Supporting our music at Sunday worship and at special events are our pipe organ and pianos:
Casavant Pipe Organ

2 manuals, 24 ranks, 1224 pipes, built in 1977
Grand-Orgue (bottom keyboard)
8′    Montre
8′    Flute à Cheminee


4′    Prestant
4′    Flute à Fuseau
2′    Flute à Bec
2 2/3′    Cornet II
1 1/3′    Fourniture IV
Recit (upper keyboard)
8′    Bourdon
8′    Viole Celeste
4′    Principal Conique
2′    Doublette
2/3′    Cymbale III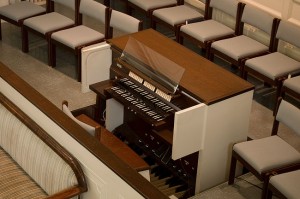 8′    Trompette
Tremblant
Pedale
16′    Soubasse
8′    Octave Basse
8′    Bourdon
4′    Basse de Chorale
2′    Mixture II
16′    Basson
Pianos
Our church facility is blessed with a number of fine pianos. The chapel houses a Steinway upright piano. The sanctuary piano is a unique piano, built in the 1920's by the Mason & Hamlin firm. Donated by the Barnes family, this piano has a completely refurbished and usable player mechanism, which allows the piano to "play itself" from an extensive library of piano rolls.